The Winery - Our People
The Winery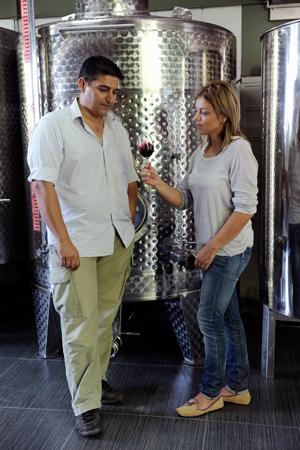 The winery of Anastasia Fragou has a wine garage style and in its premises tradition intersects with modern equipment in order to protect the original characteristics of the grapes that it hosts and their designation as the protagonists of pleasure at the table. Just behind the winery there is the proprietary vineyard of Rafina.
Heart of the winery is the small welcoming reception, which operates as a wine tasting room, shop but also as a display room for the awards and the family memorabilia with impressions of another, forgotten Mesogaia.
The total production amounts to around 40,000 bottles.
The winery of Anastasia Fragou is located in Rafina, at the 6th km of Marathonos Avenue, just 1.5 km from the sea.
It is a strategic point that communicates with our history, since it is located above the Athens Classic Marathon (at the 18th km from the start), the original route from the battlefield of Marathon to Athens, the importance of which remains unchanged in the years.
Our People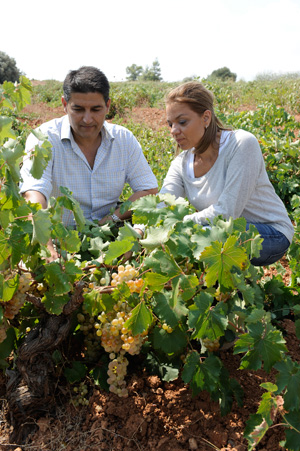 Anastasia Fragou was born and raised in Spata, in a purely viticulturist family, her life full of vineyard images, vintage and perfumes of grape must and wine, since grape was the main source of income of the family. In the childhood memories remain also sharply etched images of negotiating the price of grapes, since her grandfather Anastasios Fragou, often took her with him for the selling of must and wine to owners of wine bars of that time and traditional taverns with wooden barrels.
After school she was admitted at the Athens University of Economics and Business (AUEB) and while initially she began her professional career as an executive in the financial department of a large trading company, as the subject of her studies indicated, the love for the vine brought her back. Since then she devoted herself to the professional occupation with the land, an occupation that fascinates her every day and as she says it made her a better person.
Meanwhile, Anastasia Fragou is a founding member of the association of wineries "WINES OF ATHENS" contributing actively from the first moment to the initiatives and activities of the association and is an active member of the Union of Viticulturists and Winemakers of Eastern Attica (ΕΝΟΑΑ).
Dionysis Fragou, also born in a viticulturist family, followed the family footsteps from the very first moment. The vine has always been a priority in his life, which is why his decision to dedicate himself professionally to the wine was only natural. With studies in the Institute of Agricultural Sciences, he quickly established himself as a worthy viticulturist and winemaker.
Powerful allies to the project of Anastasia and Dionysis are their two children, Constantina and Yannis, being a daily and constant inspiration.