The Vineyard - Our Varieties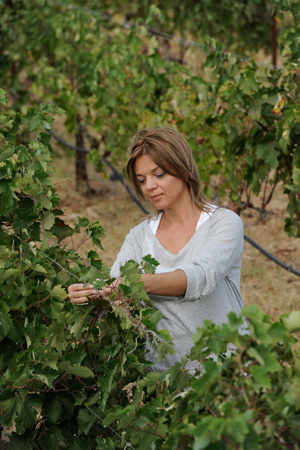 The proprietary vineyards amount to 14 hectares and are located in Rafina, Spata and Pikermi, each site focusing on the vinification of different wines in order to achieve the best expression of the variety, depending on the microclimate of each vineyard location.
The vineyards of Spata and Rafina focus exclusively on the cultivation of the Savatiano variety and the label Αβέρκιος.
Systematic experimental vinifications for the best expression of Savatiano turned it into an emblematic wine and declared winner a single vineyard of 2.1 hectares, located in Voulia, a region in the vicinity of Spata. In this particular vineyard beats loudly the heart of the winery, through the creation of the varietal label Σαββατιανό, a label that constantly adds awards from international competitions to its record.
In the vineyards of Pikermi prevails the cultivation of red varieties such as Merlot, Syrah, Agiorgitiko, the taste of which is expressed on the labels Αβέρκιος, ΆλυποςΟίνος and Rosέ. The white variety Malagousia is cultivated in the same area, expressing its dynamic through the label Νέηλυς, an also emblematic wine becoming the alter ego in wine reputation, next to the varietal Σαββατιανό.
It deserves mentioning that the vineyard of Pikermi is considered to be the coolest vineyard in Mesogaia, as the beneficial breeze coming down from the Penteli Mountain offers cool waves and gives abundant protection from the hot summer sun.
Main feature in the Anastasia's Fragou winery in the cultivation of vineyards is the controlled yield per hectare in order to harvest the grapes in the highest quality, rich in flavour and phenolic potential, with the gentle expression of the aromatic elements of each variety separately.